Tuesday, March 28, 2023
Marist College
–
Student Center
Breakfast and sign-in 8:30
Bee First Round 9:15 AM
Bee ends by 12:15
This fun-filled annual event brings High School & College students, and adults of all ages together for a friendly competition that supports basic literacy instruction for adults and reading enrichment for children.

Golden Honey Bee $1,500
Featured in website, full page in program, certificate and a special banner displayed at the event.
Bronze Bee $1,000
Certificate and special website program listing.
Busy Bee $500
Website and program listing
All sponsors are featured on social media
Each Speller enjoys a continental breakfast and receives a goody bag.
Lots of Games & Prizes throughout the event.
Award for 'Best Team Name'
Team pre-registration is required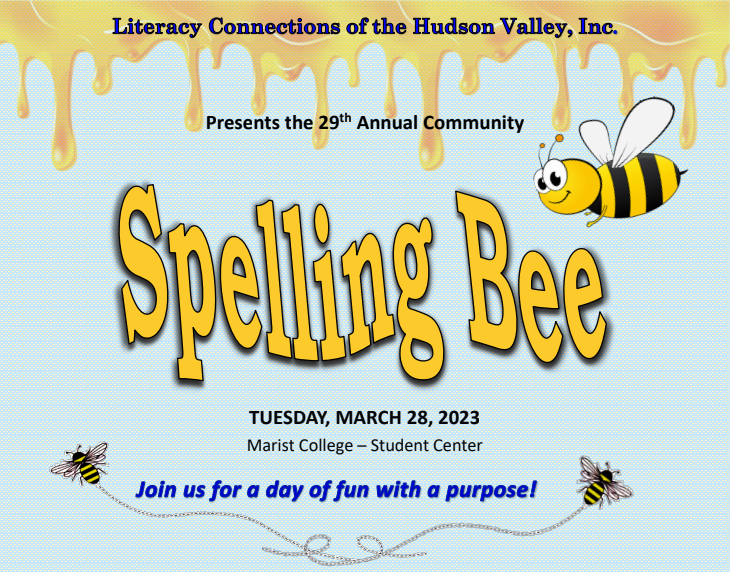 What is the BEE?
The Community Spelling BEE is a signature event held each year in March in Dutchess County. It is supported by more than 75 businesses & organizations, and it is designed to bring people together to have fun for a good cause. The BEE directly supports literacy services for adults & children in our community.
How does it work?
Teams of two come together and spell. We use official Spelling Bee rules, but we have fun while doing it. No teams are eliminated in the regular rounds; scores are kept. The teams with the highest scores go to the final round. We have prizes and special awards.
Where do spellers come from?
Spellers come from the community. Sponsors can send their own teams or we will find a team to represent the sponsor. Teams are comprised of high school & college students, and adults. Throughout the event, every time a team spells, the Sponsor's name is announced and is shown on a custom-made sign that the Team holds up as they spell.
Fun with a Purpose!
The Annual Community Spelling Bee supports reading programs for adults and families. Our services help adults learn basic literacy and English language skills; it also helps them obtain a GED, become US Citizens, and to get better jobs. Our children's program helps elementary school children become grade-level readers. Success in Literacy truly changes lives – we see this every day!!
For More Information please call or email us at:
By taking part in the community Spelling Bee you will be directly supporting literacy programs for adults & children. The staff, volunteers & students at Literacy Connections sincerely thank you!